TOPIC: POWDER COATING
Powder coating, what is really happening in there? What lies behind the terms powder coating - komaxit?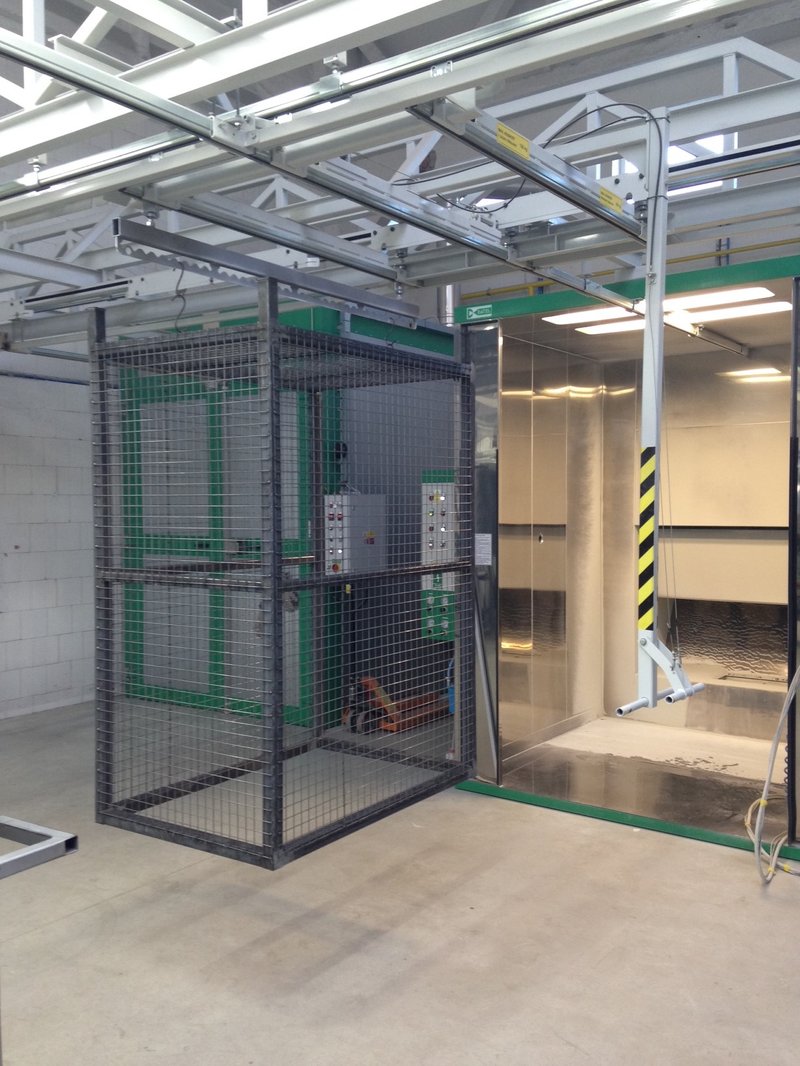 The issue of powder coating involves several areas. This method of surface treatment concerns not only the process of applying powder coatings, but also a selection of different types of devices and methods komaxit.
There is a large number of powder coating types and the actual work with colors is complicated as well. We utilize standardized pattern books with conventional color systems, but even these need to be specified according to the technology and materials (for example, products of sheet metal). The perception of various shades of colors may vary with different context. Finally, it is also important to bear in mind the standards specifying requirements for quality powder coating and durability of komaxit.
In comparison to conventional surface coatings, the modern technology of powder coating has many advantages. Lacquer coating is due komaxit more shockproof (gusts of stones on the body, etc.), Abrasion resistant and resistant to high heat. It also significantly extends the durability of the paint that is resistant to erosion and environmental influences and chemicals.
Surface treatment as well as the method itself, respectively. powder coating, is demonstrably greener. Sustainability is given by the fact that it is a solid form of a color, which does not require any solvent and there is also minimum waste during its production. Time consumption as well as security risks such as fire danger are lower as well.
Range of applications is nowadays incredibly broad. Powder paint shops today serve almost all areas of industrial production. We can mention white goods (washing machines, refrigerators, ovens), metal furniture, locks, bicycles, fitness equipment, utensils, auto parts, household equipment, metal products, cabinets, letter boxes, boxes, metal cabinets and many more.
Generally speaking, the powder coating is and end-single-layer coating, which can be used to obtain the required surface qualities, aesthetic properties and corrosion protection. Its possibilities of adjustement are in comparison to conventional paints much and are not limited to color, grain and gloss. Powder coating on the surface can create an appearance similar to wood, marble, glass, and the like. The use of komaxit applies in particular to the manufacturing and construction industries. The centerpiece of the process is the powder coating plant. That itself includes several separate parts and processes important for powder coating.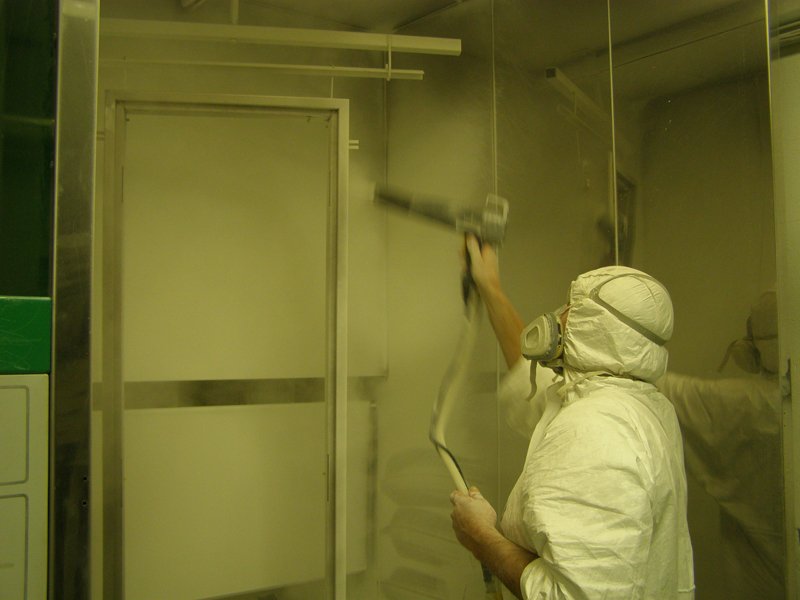 Various types of surfaces and the desired final surface character are selected from various kinds of procedures as well as various powder coatings. Different is the nature of the subsequent burning, which is the main peculiarity of powder coating.
But let's break into the problems of powder coating gradually. Preparation - pretreatment of surfaces remains An integral part of a quality komaxit.
Pre-treatment usually involves cleaning by chemical or physical (pressure and hot cleaning) or mechanical method. Important is in particular degreasing (NaOH, organic solvents), and removal of solid impurities (e.g. corroded layers). It is used also e.g. phosphating and finally rinsing with water (demineralised). Thorough drying of the material is a must for powder coating.
Proper preparation affects chemical stress, conductivity, strength and roughness of the substrate and the related ability of adhesion of the powder and hence the life expectancy of komaxit.
Part of the pre-treatment as a base for powder coating is also the so called conversion coating. Its purpose is to prevent corrosion, and sophomore improve adhesion of the coating paint. The most widespread conversion coating is a phosphate coating, but also we should mention chromated or titanation as well.
APPLICATION OF POWDER COATING
Powder coating uses basically two methods of komaxit. The first one consists in applying of fluidic powder, the second utilizes electrostatic charging particles and the principle of Coulomb forces.
FLUID POWDER COATING
Put bluntly, fluidized powder coating is the "liquefaction" of the powder by mixing with air - the mixture then gains the character of liquid. Exclusively thermoplastic powders are used. Preheated surfaces are as necessary as immediate subsequent burning. This method finds particular application by simple shapes or wire products.
ELECTROSTATIC SPRAYING
The powder coating is used to attach the powder to the surface with electric charge. The powder is propelled through a gun under pressure. According to the way a charged particles we can distinguish between two kinds of electrostatic komaxit. Electrostatic charging (ie. corona) uses a high voltage electrode at the mouth of the gun (particle passes through a high-voltage electrostatic field). It's a faster way of charging with great quality, but its weakness are products with a rugged surface and deep places. It allows simple repairs of powdered surface, guns are lighter and the manipulation including color changes and strength of powder coating is less complicated.
Electrokinetic charging (ie. Tribo) utilizes the powder friction against the insulator either directly in the gun, or already in the hose, made e.g. of Teflon. This charging method is not so effective, but it is preferable for articles of sheet metal with a very rugged surface and countersinks. It does not require a high voltage generator and creates a more uniform coating. But you can use a smaller range of powders.
BURNING AS ENDING FOR POWDER COATING
After the application of the lacquer it is required to melt and bake the powder by high temperatures, which fixes it in place. It uses the interim or chamber furnaces. A chemical reaction of cross-linking of polymers allows for integrally formed hard layers.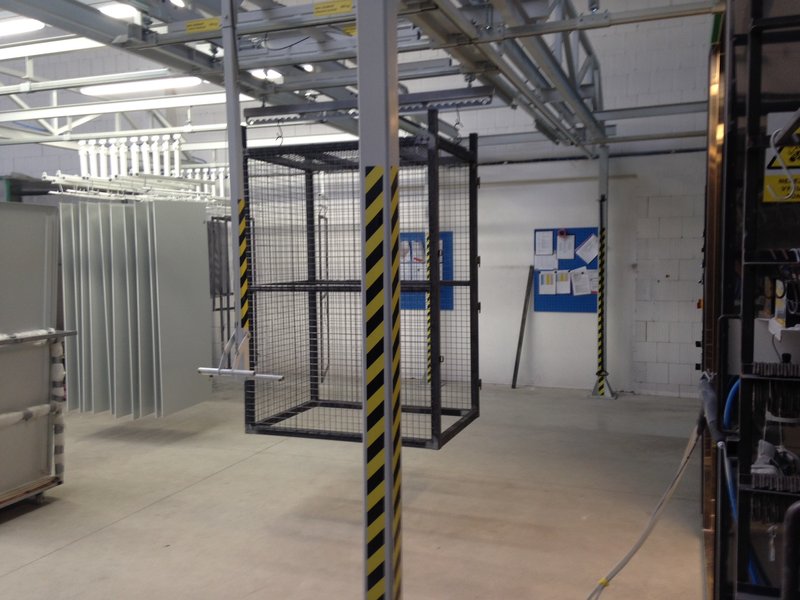 Temperatures usually reach range about 140 to 220 ° C and burning hte komaxit takes about half an hour. Most often its heated the gas, but occasionally an IR or UV oven is used as well. Almost immediately after cooling, the products can be dispatched. In practice, however the powder paint shop will proceed to quality control. This is done using the grid control or gloss-meter test.
---